Fluid Acrylic
I am essentially a watercolorist and fluid acrylic on primed canvas is very closely approximates watercolor on paper. The final work does not require framing. I love the Golden brand of fluid acrylics especially the metallic, iridescent and interference paints. They provide light fracture and movement. The work comes alive.
Watercolor
Everything is right in my world when I have Holbein bright violet watercolor and a squirrel hair brush. I choose only the most vibrant and lightfast makers of watercolor. I have recently fallen in love with Daniel Smith watercolors. Made in the United States, they are luminous.
The framed and layered essence of watercolor on canvas, paper or birchwood is my favorite. The medium holds so much beautiful and life-giving energy. Living with the work is a true joy.
Colored Pencil
I try them all and it always goes back to Prismacolor for vibrancy and consistency of line and color.
Watercolor Crayon
Watercolor crayons are the essence of play. They are perfect for the beach when wet and messy is the order of the day.
Watercolor Pencil
I use watercolor pencils when I am entertaining controlled chaos and I want specific color in specific places.
Marker & Ink
Markers are great for definition and repetition of a mark, especially with watercolor and smooth paper. Ink is beautiful for its intensity.
Metallic
I am in love with all things metallic from paint to paper to ink, pencil and marker. Life is more beautiful when it sparkles and shines.
Iridescent
Iridescent paint and mediums lend elegance and light refraction. The work comes alive because the art seems to move as you move past it.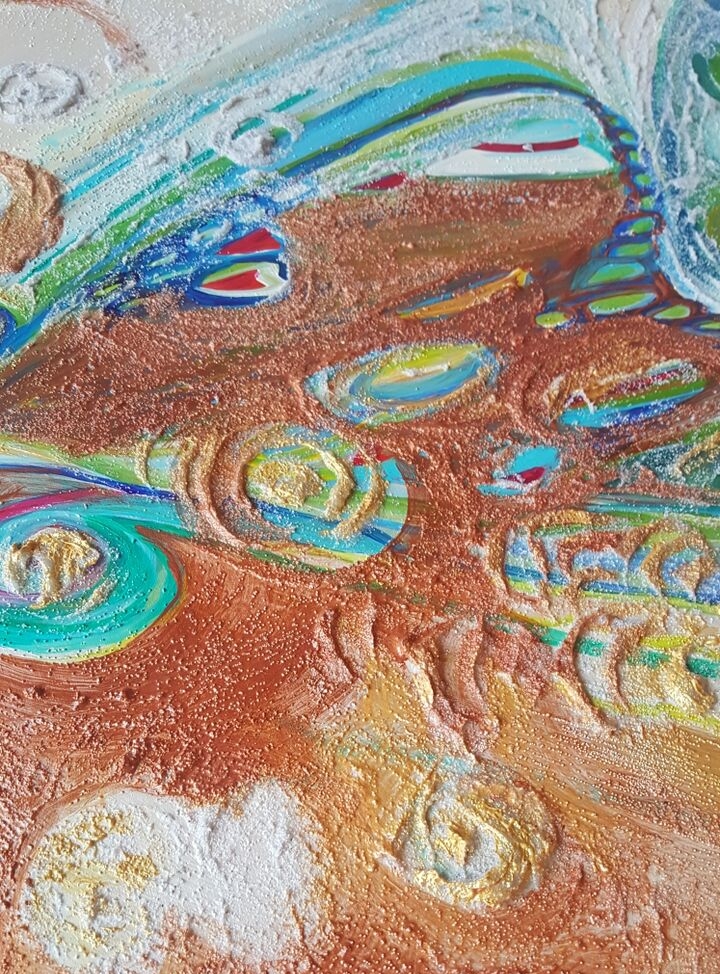 Texture
I prefer subtlety with mediums that provide texture. Golden Products makes an excellent Glass bead medium that is tremendously elegant when combined with iridescent fluid acrylic. The purpose of texture, in addition to creating a sculptural element, is to help move the light on a two dimensional surface.
I love it when people want to touch my work and textured surfaces seem to draw that attention. They also lend a third dimension and a sculptural element to the work.
Nature
I love to include sand when I'm working on the beach. I've also let the rain change my paintings, forcing me to release my perfectionistic tendencies and allow nature to show me the flow.
I love when the natural earth elements like sand end up and remain in my work. When I paint on the beach I always use lake water as a medium.
Eco-Friendly
All my materials are high-quality water-based professional artistic media that are bio-degradable and I assure their proper disposal.
Canvas
When a piece is commissioned on canvas, linen canvas is custom-stretched and -primed to stand the test of time. These are custom made in Chicago.
Custom-Built Wood Stretchers
Artwork created or commissioned is completed on the highest quality kiln dried poplar stretchers that resist warping.
Birchwood
Custom birch wood board is startlingly beautiful and absorbent. It acts very much like paper and holds metallic and iridescent acrylic and watercolor. The feel is organic and shows wood grain. The work does not require framing and it interacts freely with light. These are custom made in Chicago
Watercolor Paper
I have a true preference for 400 pound Arches watercolor paper. I love the stamp and the watermark and also the way that paper holds detail and layering. It is always a wonderful day for me when I buy it rolled for custom and oversized work.
Custom Frame Advising
Clients often seek my artist's advice on professional framing and I am more than happy to collaborate to create spectacular, cohesive selections.
Media Gallery for Process & Materials Page